The Best Three Stone Engagement Rings
September 5th, 2022
Three stone engagement rings are among the most radiant. By surrounding the center stone with two accessory gemstones, they create a uniquely bold and brilliant display. These beautiful pieces are said to be highly romantic, the stones serving to represent the past, present, and future of a relationship. Designers craft a plethora of three stone rings in all kinds of styles. From contemporary fashion to vintage excellence, there's no end to the variety available. We at Rogers Jewelry Co. adore this style of ring and have selected a few of our favorites.
Halos: Maximum Magnitude
While three stone rings are famously brilliant, halos take this shine a step further. They combine the classic halo setting – wherein the center stone is wrapped in a layer of diamonds – with a three stone setting, creating a peerlessly bright display. For those who seek the most reflective, radiant rings, a three stone halo setting can't be bested.
This is especially true when it comes to rings by Hearts On Fire. They use a proprietary diamond cut that allows their diamonds to shine brighter than any other. The Integrity HOF three stone engagement ring is spectacular beyond measure. 18k rose gold contrasts with the 18k white gold in the band and center stone, evoking potent feminine energy.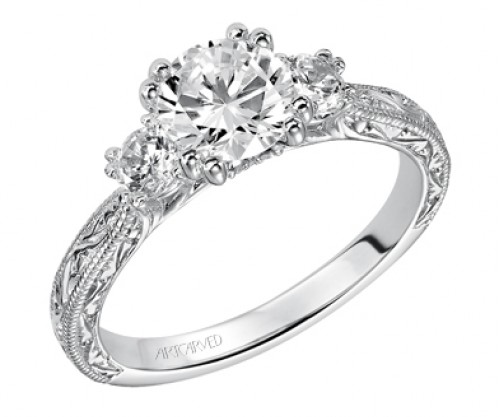 Vintage: Metalworking Magic
Rings are more than vessels for diamonds. Talented designers can imbue the band and setting with intricate metalwork, turning precious metal into a vivid tapestry. With the milgrain beading commonly used in vintage-style rings, these designers can further elevate these stunning pieces.
ArtCarved first began in 1850. Ever since, they've crafted high-quality rings with uncompromising attention to detail. This ArtCarved Vintage engagement ring has exquisite milgrain designs along the band. Swirls, lines, and shapes decorate the piece, yielding a marvelous floral aesthetic. These ornate details serve to add visual interest and an air of timelessness.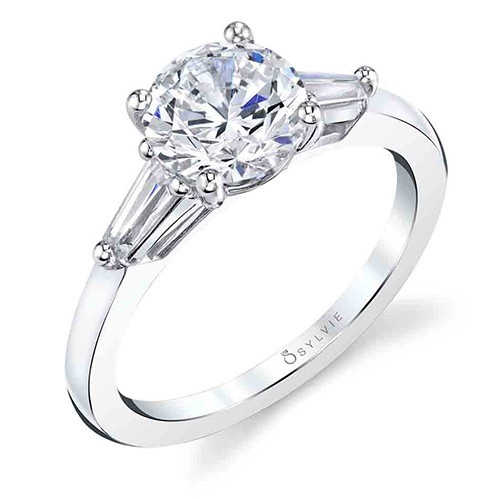 Modern: Artistic Accessory Stones
Designers use a myriad of cuts for accent stones, some of which are exclusively used for three stone settings. These eccentrically shaped gems have unusual light displays and brilliant properties. Sometimes, they have more understated silhouettes to better accentuate the fantastic gemstones.
Sylvie is a brand that specializes in feminine elegance. In this piece, the center stone is flanked by two sleek baguette cut diamonds. While rarely used for center stones, baguettes evoke a chic and elegant aesthetic. The straightforward band bears little but the Sylvie logo, allowing the setting and center stone to look enchanting on their own.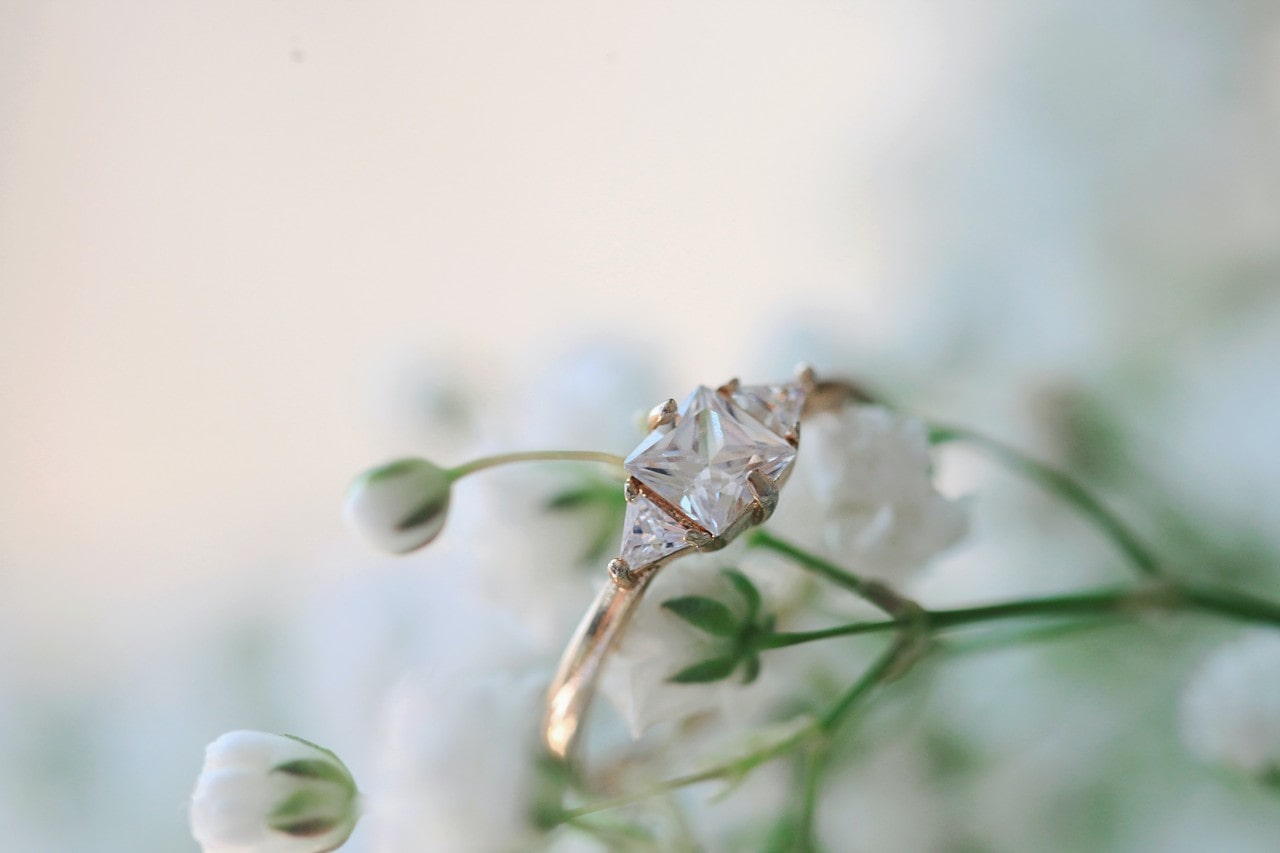 Find Your Favorite Three Stone Engagement Rings at Rogers Jewelry Co.
For the ultimate in luxurious bridal jewelry, seek out your nearest Rogers Jewelry Co. showroom. We offer a superb selection of some of the world's most beloved engagement rings, wedding bands, and more. Be it a fantastic three stone engagement ring or a charming solitaire, you can find it at all of our jewelry stores.
Whether you're in Folsom, Fresno, Bakersfield, or San Luis Obispo in California or Reno in Nevada, you're guaranteed to have an unforgettable shopping experience with our talented staff. Have questions? Call a jewelry store near you to find the answers.