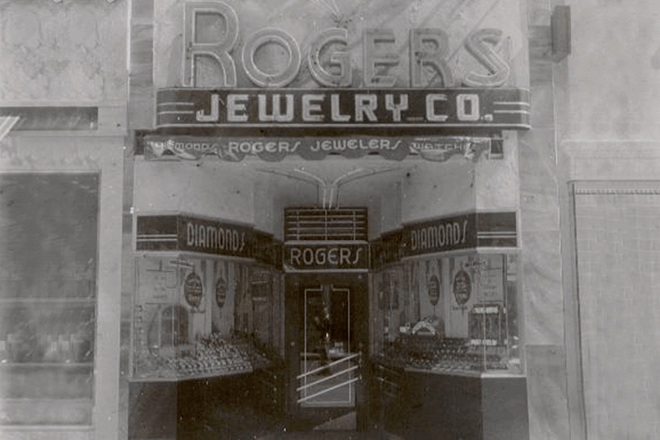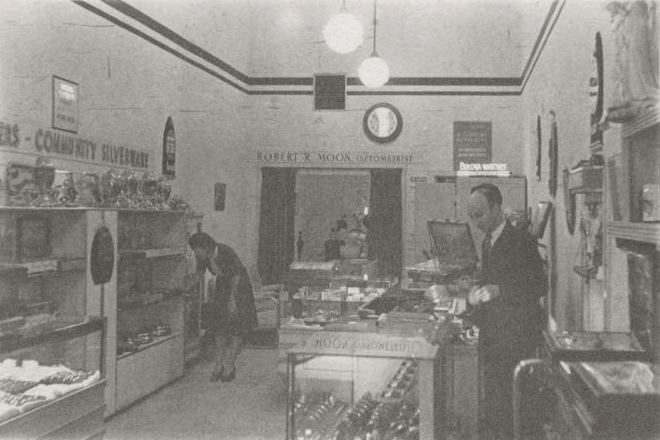 About Us
Our Diamond Anniversary
Just like a diamond takes time to reach its full potential, so does the jewelry store that displays it. At Rogers Jewelry, we've been specializing in the finest quality diamonds and jewelry since 1937.
We're proud to celebrate more than 80 years in business. After all this time, we've learned exactly what customers want - better brands, better service and better selection, including the area's largest collection of engagement and wedding rings.
A diamond isn't made overnight. Neither is a relationship you can trust.
Harry Marks circa 1940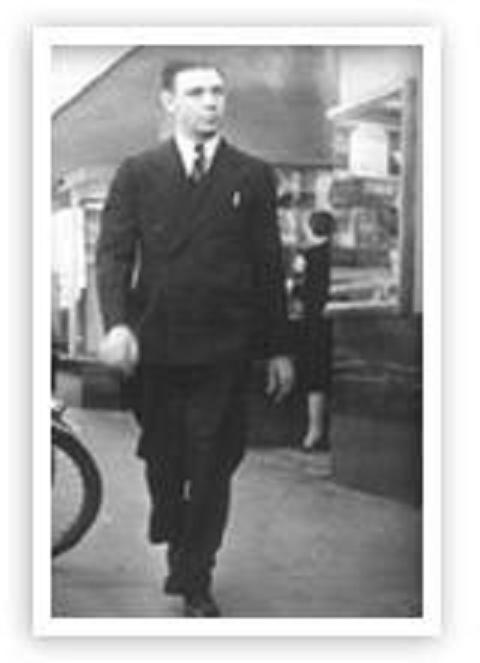 Our History
In 1937 a young jewelry salesman, Harry Marks and his partner, Dr. Robert Moon, a practicing optometrist, founded Rogers Jewelry Company in Modesto, California. With vision, foresight and dedication the founders built their company on the principles of providing quality jewelry, friendly service and credit while maintaining the highest standards of integrity. The company has enjoyed solid growth throughout Central California and Nevada and now has stores located in: Modesto, Sacramento, Folsom, Elk Grove, Fresno, Bakersfield, San Luis Obispo and Reno.
Dr. Robert Moon, Circa 1930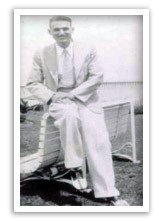 The legacy of honesty and integrity helped the company to grow to its current seven stores. Besides managing a successful and growing company, Harry Marks and Robert Moon devoted much of their time to public service.
Prior to his death in 1978, Mr. Marks was Mayor of the City of Modesto for eight years, President of the Modesto Lions Club, Modesto Chamber of Commerce, League of California Cities and the Tahoe Area Council. His leadership and public spirit caused him to be honored as the Outstanding City Official by the League of California Cities.
Dr. Moon, who recently passed away at the age of 95, was a member of the Kiwanis Club serving as District Governor, President of the Modesto Chamber of Commerce, Chairman of Modesto's first successful All America City campaign and Treasurer of the California Jewelers Association. Both Harry Marks and Dr. Moon were founding members of Del Rio Golf and Country Club.
Our Company Today
The tradition of serving the community and the jewelry industry as a whole has been carried on by the company's current Chairman, Mr. Roger Marks. Roger has served as President of the Modesto Credit Bureau, the Board of Directors of Doctors Hospital Foundation, is a member of the Modesto Rotary Club and served as President of Del Rio Golf and Country Club. His jewelry industry service includes: Vice President and President of the California Jewelers Association and Treasurer of the Jewelers of America, the jewelers national association representing over 12,000 jewelers. Mr. Marks was installed as the President of the Jewelers of America in July of 1989. He has been guest speaker at various seminars and conventions and is often shown and quoted in national and regional industry magazine publications. Mr. Marks displays much pride and commitment to our organization, recognizing the talent and success of the company's many fine employees.
Today, Mr. Robert Marks, grandson of the founder, is President of the company. Service is important to Robert, and he has also served as President of the California Jewelers Association, President of the Leading Jewelers Guild and on the Jewelers of America "Smart Business" education task force. Robert is also a past Chairman of the Modesto area Youth for Christ. He currently serves on boards for these two organizations: Advancing Vibrant Communities and the Leading Jewelers Guild. He is also a member of the Modesto Rotary Club.
Bart Marks, also a grandson of the founder, is the Vice President of Rogers of California and the CEO of Rogers of Nevada, as well as President and Founder of Fire and Ice Diamonds. Bart has enjoyed a long and varied career in the jewelry industry, holding the positions of Vice President of Marketing and Vice president of Brand Development for the global diamond brand Hearts On Fire, then working as Executive Vice President for the San Francisco landmark Shreve and Co. Bart rejoined the family business in 2010, bringing a wide range of experience and a unique view of the industry to the company he has known his whole life. Bart believes that no jewelry company in the world is more committed to providing excellence in customer service than Rogers Jewelry Co.
Our company is also proud to support many charitable organizations including: St. Jude Children's Research Hospital, Sacramento Food Bank & Family Services, The Salvation Army, The Gallo Center for the Arts, Youth for Christ, Community Hospice, Rotary International, Lions International, Modesto Union Gospel Mission, Bethany Christian Services, The Criminal Justice League and Big Valley Good Samaritan.
We have seen the dynamics of the marketplace change over the course of our 80-plus years in business. We have seen the shift from downtown shopping districts to suburban shopping centers to giant regional-covered malls, and to the current trend of "Lifestyle Centers." We have responded to these shifts as well, moving our stores from downtown locations to regional malls and now to freestanding Superstores, located adjacent to other "Lifestyle Center" retailers.
We have opened seven Superstores: Folsom, Elk Grove, Bakersfield, Modesto, Fresno, San Luis Obispo, California and Reno, Nevada. With more than four times the square footage of the average mall jewelry store, these stores have amenities such as private viewing rooms, computer design centers, stores within a store - featuring the top brands in the industry, in-store jewelry manufacturing facilities and sophisticated diamond quality analysis equipment.
In addition, the Superstores have comfortable lounge areas, satellite television, a fireplace and complimentary beverages for your comfort and enjoyment. Due to the available space a Superstore location affords, we are able to stock a much larger selection of jewelry than a typical mall store can carry. Our plans for the future call for more Superstore locations. We feel strongly that these stores, equipped with the latest technology, a comprehensive and large selection of merchandise, a very comfortable atmosphere, and employing a knowledgeable staff able to explain the various aspects of gem selection, sets the standard for the future.