Scott Kay: A Bridal Jewelry Brand that "Never Compromises" on Quality and Design
January 21st, 2019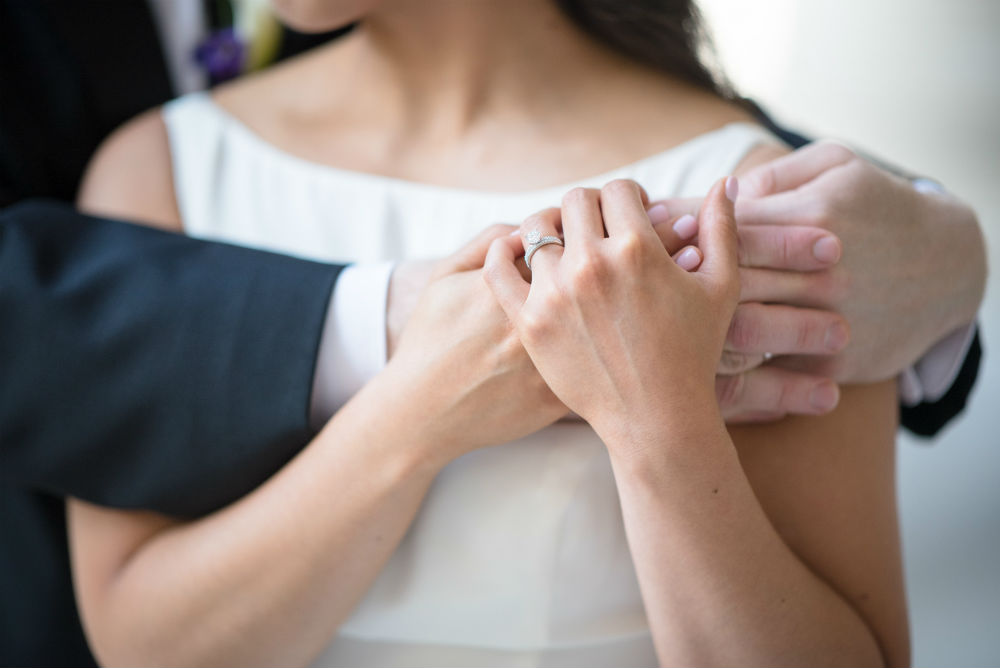 Scott Kay is an innovative wedding jewelry brand. Founded in 1984, the chief designer and namesake received critical acclaim for keeping his finger on the pulse of bridal fashion and setting new trends.
Founder and designer Scott Kay established his new brand with a distinctive, artistic collection. He is credited with reviving the popularity of platinum in America, a trend that continues to influence brides' choices today. Although the designer himself passed away in 2014, a small team of world-class artisans proudly carries out his legacy. They create exquisite engagement rings and wedding bands for men and women as well as men's fashion jewelry.
Popular Scott Kay Engagement Ring Collections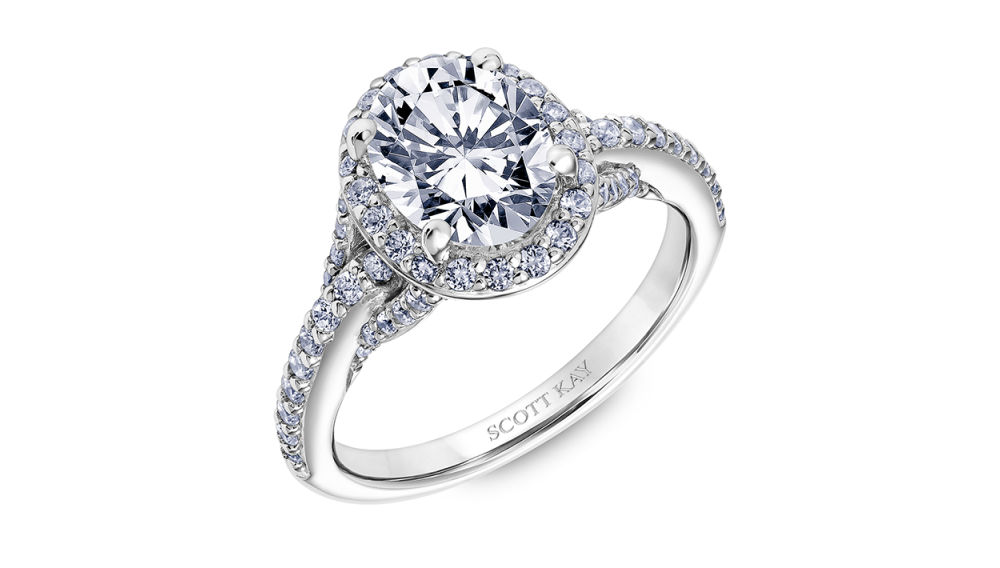 The Embrace collection is designed to represent two people joining together as one. Many pieces feature diamond-studded links along the band. In halo styles, these links blend seamlessly with the strand of diamonds around the center stone. Brides who prefer a more classic silhouette can still enjoy the symbolism of an Embrace ring; simple solitaire diamonds are lifted high above their polished bands by stacks of pavé links.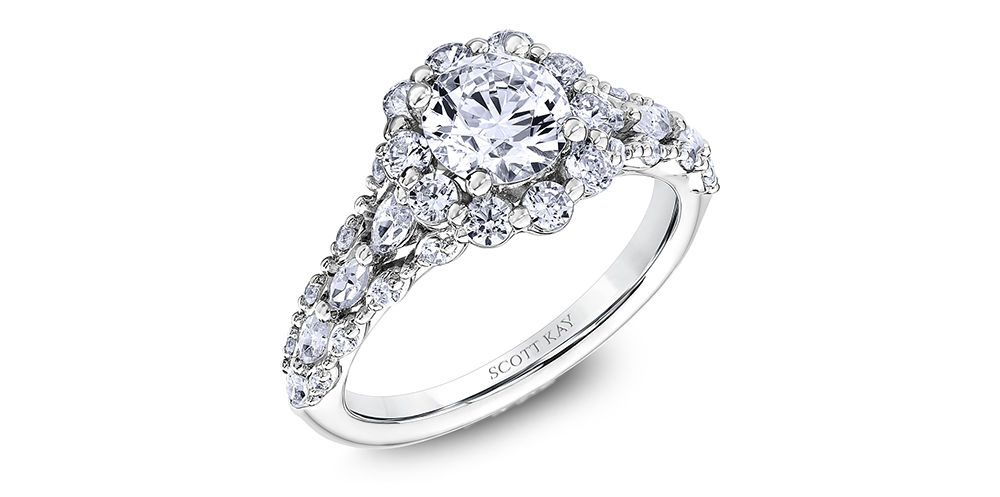 The most important feature of Luminaire rings is the open space under the diamond. When light enters from the bottom of the setting, it reflects through the top of the diamond to produce intense fire. This design element celebrates the light within all people which creates sparks of romance that lead to everlasting love. The main visible portions of the rings range from classic solitaires to modern twisted bands.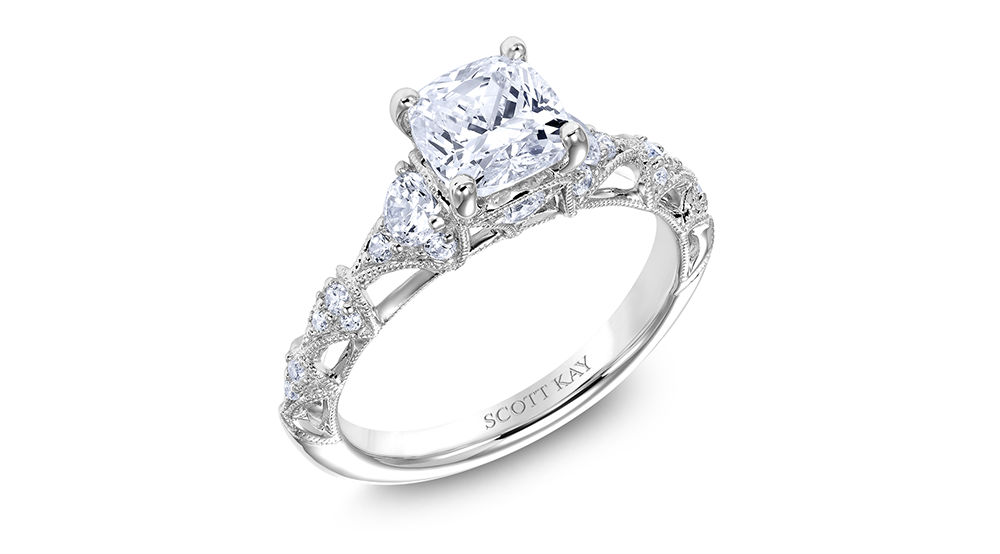 The engagement rings of the Heaven's Gates collection are intricate and ornate. On the inner face of most settings, metal is carved into exquisite geometric patterns mimicking a picket fence surrounding paradise. Triangular patches of diamonds within these patterns add hidden shimmer to the bridal set. The open metalwork allows light to enter under the center diamond for brilliant reflection. Available in solitaire, three-stone, and halo settings, these rings are for the bride who wants maximum sparkle.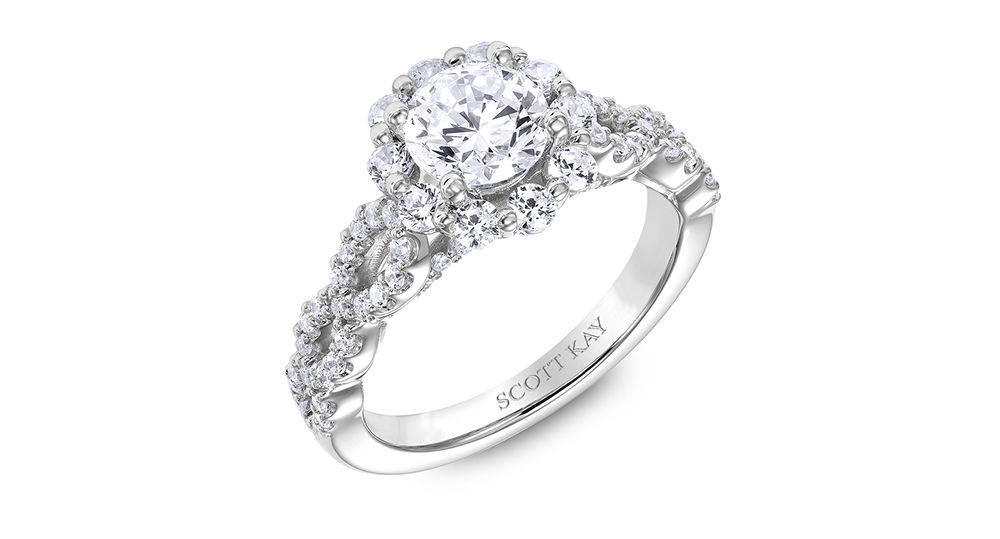 Namaste is a word for the recognition of one soul in another. Such mutual respect and spiritual connection lay the foundation for truly great, deep love stories. In the Namaste collection, shanks are twisted and woven like two lovers' lives forever melded into one. These twists and overlaps create open areas that define the silhouette of the ring. Some bands are soft, curvy, and feminine. Others are bolder with sharper lines. They are available in solid metal, diamond-studded, and two-tone.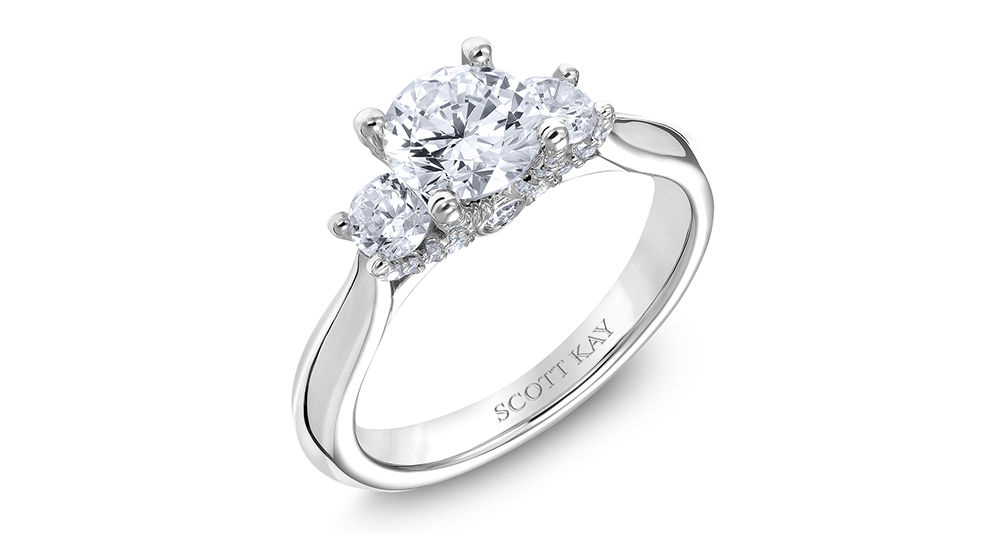 Each engagement ring in the Crown collection is a regal three- or five-stone design. Many rings also feature diamonds under the setting, hidden details only readily visible to the queen who wears the ring. The sparkle does not end there; several styles are covered with pavé diamonds, and matching wedding bands are studded with one to three diamonds rows. Round-cut center diamonds keep the look more traditional while princess cuts and baguettes are sleek and contemporary.
Finding Scott Kay Bridal Jewelry at Rogers Jewelry Co.
Rogers Jewelry Co. has been family-owned and operated for over 80 years. Our humble beginnings led to the opening of seven superstores in Modesto, Bakersfield, Folsom, Elk Grove, Visalia, and Fresno, CA, as well as Reno, NV.
For inquiries regarding our products, services, hours, and events, please visit our website. On our site, you will also find the phone numbers and directions for our showrooms.