How to Keep Your Engagement Ring Sparkling for Years to Come
August 13th, 2019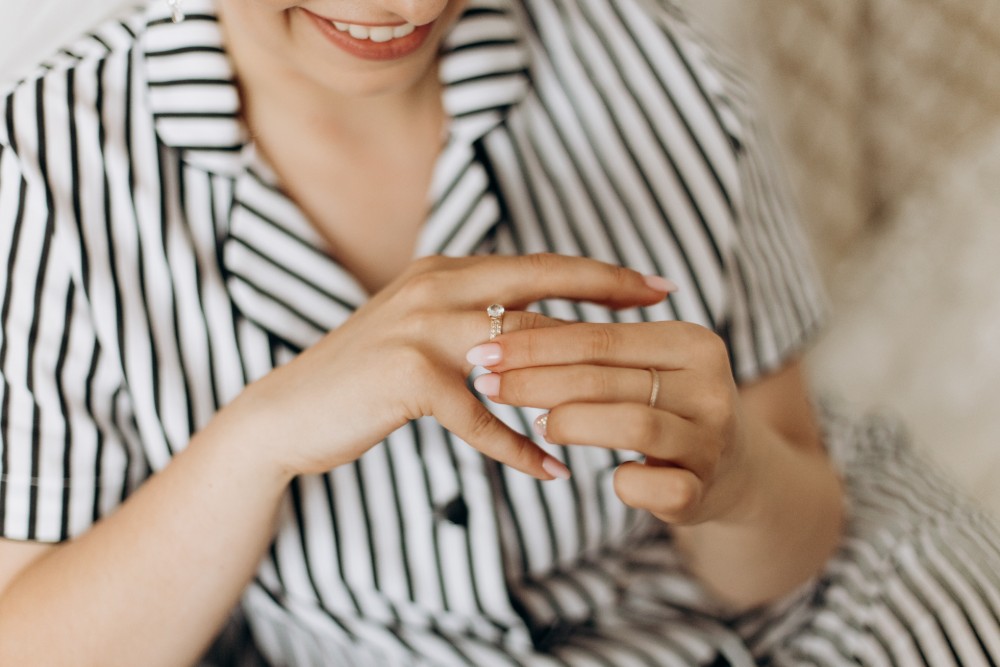 Engagement rings. They're beautiful, durable, and represent a lifetime of love. But trust us, we've had plenty of customers come in over the years, heartbroken about their prongs snapping, diamonds falling out of a ring, dents or scratches defacing the shanks, or any number of awful things.
While accidents can strike at any time, the lion's share of catastrophes that affect engagement rings happen because they aren't given regular repair and maintenance. Here at Rogers Jewelry Co., jewelry repair has been part of our selection of services for generations, and we're always happy to pass along a few tips for fiancées and brides to keep their engagement rings radiant!
Bring It in for Professional Maintenance
The first tip should be the most apparent: Professionals who spend all their time maintaining and repairing jewelry are better at repairing and maintaining jewelry than amateurs. If your diamond engagement ring has suffered damage that has bent a prong, loosened stones, or deformed a setting, we strenuously advise you to bring the piece in to be repaired. Accidentally snapping a prong while trying to bend it back into place is no fun. And don't forget that even if your ring seems to be okay, still bring it in twice a year for regular checkups! It's a good rule of thumb to keep in mind.
Clean Your Engagement Ring at Home on a Regular Basis
It's possible to perform mild cleaning on your engagement ring. Stick to lukewarm water, mild dish detergent, and an extremely soft brush to wash away grime and dirt. Once you've cleaned the ring, utilize a lint-free cloth or a hairdryer (on a low setting) to dry it. Leaving it to air-dry can leave water stains on the metal and diamond. Of course, variables can complicate the cleaning. For example, if your halo engagement ring is white gold, you may accidentally scrub some of the rhodium plating off. Some of the diamonds may fall down the drain without you noticing it. We advise you bring your engagement ring for a professional cleaning at least twice a year.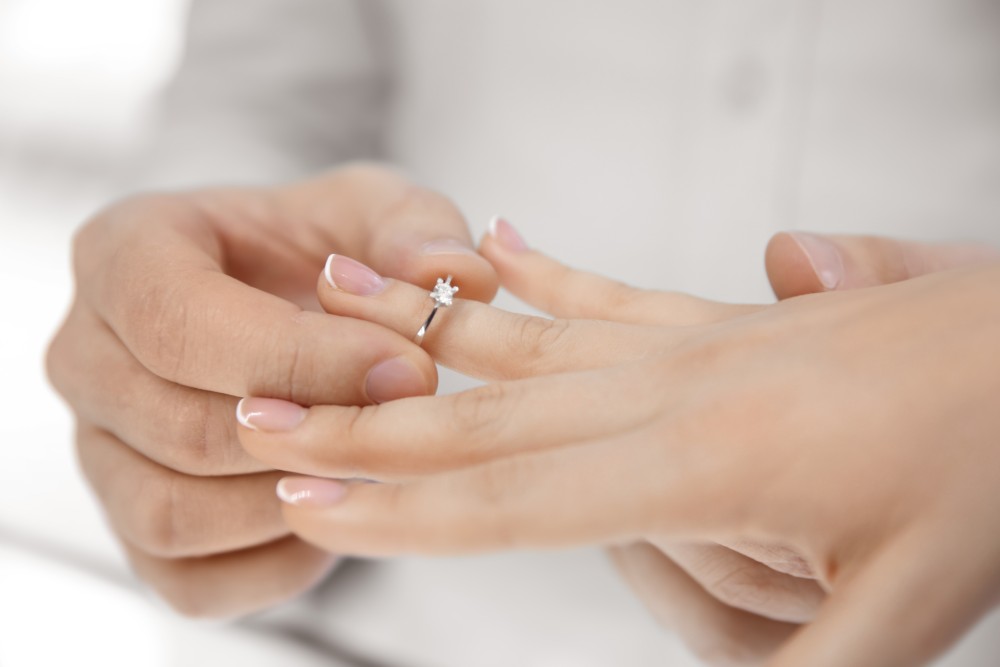 Take it Off
If you're at home and you've got to do some heavy lifting, gardening, moving, or spring cleaning, you ought to take your engagement ring off and leave it in a fabric-lined box. You may not expect to whack your hand against something or have something fall on your fingers, but you remember when we mentioned how many women come in after an accident that damages their ring? You don't want to be moving a couch and hit the vulnerable center stone of a solitaire engagement ring against the doorframe.
Looking to Resize?
There are many reasons why you may want to resize your ring. After all, fingers change size during a woman's life. Pregnancy, as an example, causes a woman's fingers to increase about two ring sizes. Weight loss and aging can also dramatically affect a woman's ring size. However, keep in mind that metal structurally deforms after a resize, and if you really love your engagement ring, it should never be resized more than once. Also, it's easier and less intrusive to make a ring smaller using sizers and beads, so it's better to have a too-large ring than a too-small one.
Learn More about Engagement Ring Maintenance with Rogers Jewelry Co.
If you're interested in the engagement rings and jewelry repair services we offer at Rogers Jewelry Co., contact us through our website or visit us at any of our showrooms: Modesto, San Luis Obispo, Bakersfield, Folsom, Fresno, Elk Grove, and Visalia, California; and Reno, Nevada!