The Age of Elegance: Engagement Ring Styles by Decade
October 15th, 2023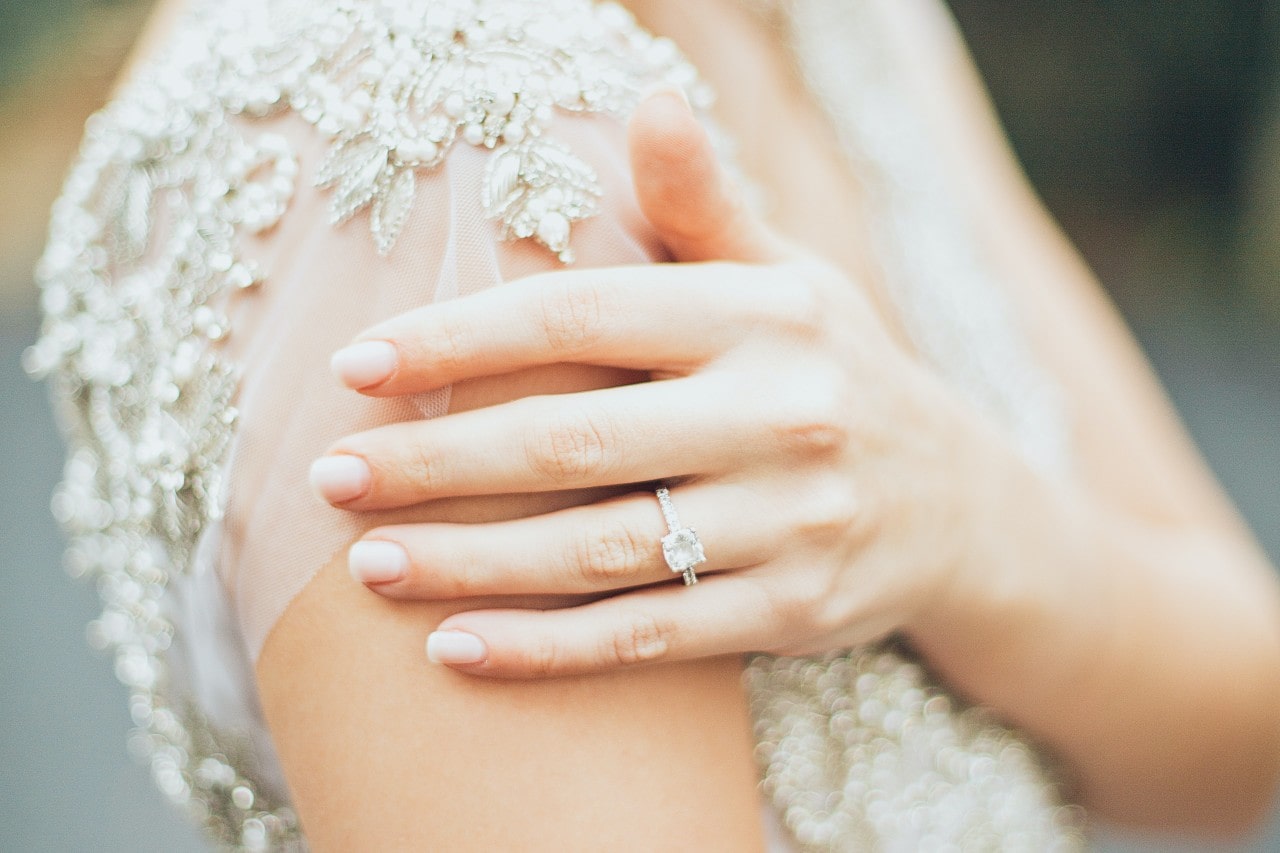 Over the decades, engagement ring styles have continuously transformed, mirroring the changing tastes and cultural shifts of each era. Each decade brought with it distinctive designs and themes that are fondly remembered and sought after today. At Rogers Jewelry Co., we honor this rich tapestry of design history. Our collection encompasses the myriad styles that have enchanted generations, from vintage classics to contemporary masterpieces. For those charmed by the allure of bygone eras or looking for something unique, Rogers Jewelry Co. promises a diverse array of rings that celebrate love's timeless journey.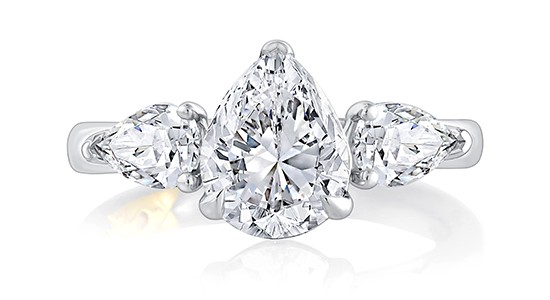 1960s
In the 1960s, engagement rings exuded a blend of tradition and innovation. Large-and-in-charge diamonds took center stage, often set in minimalistic settings that accentuated their grandeur. Alongside these showstoppers, the decade also saw a rise in unconventional choices, with unexpected center stones and creative settings gaining traction. This mix of classic and avant-garde reflected the era's spirit of change and individual expression. Rings like this one from A. JAFFE's Seasons of Love collection echo the timeless charm of this vibrant decade.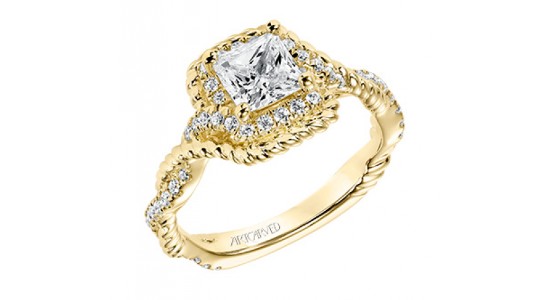 1970s
Engagement rings of the 1970s reflected a bold and distinctive style. Yellow gold, with its rich and warm hue, became the sought-after metal. The modern allure of princess cut diamonds took the forefront, embodying the decade's innovative spirit. Statement rings, marked by their unmistakable 1970s flair and drama, were all the rage. An epitome of this era's elegance is this ArtCarved Briana engagement ring, seamlessly blending iconic design elements with timeless beauty.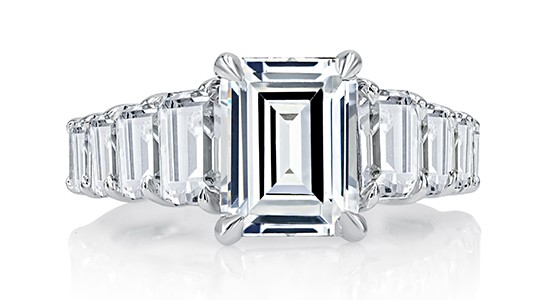 1980s
Elaborate fancy-cut diamonds, including pears, emeralds, and cushions, saw a surge in popularity during this vibrant decade. Building on the trends of the '70s, yellow gold solidified its status as the go-to metal, encapsulating the opulence of the times. A shining example is this A.JAFFE Metropolitan engagement ring, which brilliantly captures the essence of 1980s elegance, merging classic white gold with the decade's penchant for unique diamond cuts.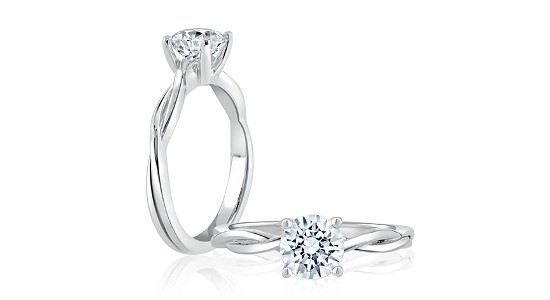 1990s
As the world moved into a new decade, engagement ring styles shifted towards a more minimalistic approach. Solitaires made a notable comeback, showcasing the beauty of simplicity with their singular, mesmerizing diamonds. Designs spotlighting a prominent center stone, flanked by petite side stones, emerged as a favored aesthetic, elegantly balancing extravagance with understated charm. This Willow collection engagement ring by Fire & Ice exemplifies the '90s sentiment perfectly. Its graceful design, centered around a luminous diamond, encapsulates the decade's allure of refined simplicity paired with subtle opulence.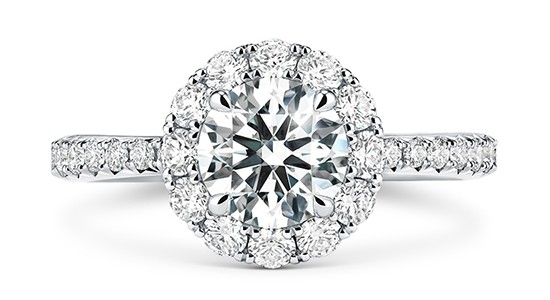 2000s
Halo settings, characterized by a circle of smaller diamonds framing the center stone, became the hallmark of engagement ring design during this era. These designs not only enhanced the brilliance of the central diamond but also added a dramatic air of vintage romance to modern rings. This Vela halo engagement ring by Hearts On Fire is a stellar representation of this trend. With its radiant halo and exquisite craftsmanship, it beautifully captures the essence of early 21st-century elegance.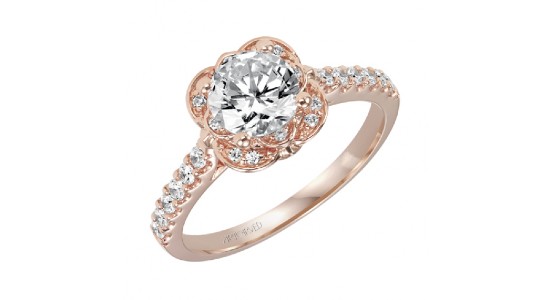 2010s
During the 2010s, engagement rings witnessed a surprising shift. Richly colored gemstones, once reserved for other jewelry pieces, became dazzling focal points and subtle accents in these symbols of love. Alongside this, the romantic glow of rose gold surged in popularity, flattering every skin tone with its warm, vintage charm. Embodying this era's trends, this spectacular ArtCarved engagement ring showcases a brilliant mix of rose gold and a striking colored stone, exemplifying the decade's fusion of past and present in bridal aesthetics.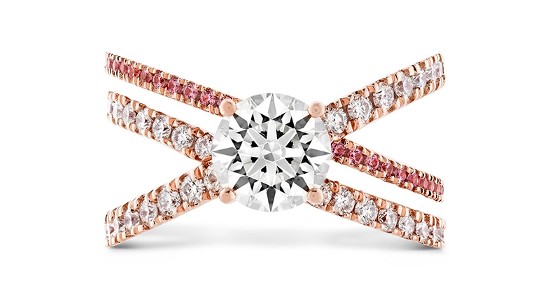 2020s
In this decade, we're witnessing an eclectic mix of traditions and avant-garde innovations in the world of bridal jewelry. The three-stone ring, symbolizing the past, present, and future, remains a cherished choice. However, the era's mantra seems to be "anything goes." From alternative center stones to open settings, the boundaries are continuously expanding. Toi et moi rings, unisex statement bands, and reimagined signet rings capture the decade's spirit of individuality. This Hearts On Fire Harley Wrap engagement ring, adorned with dreamy pink sapphires, exemplifies this trend, beautifully merging classic and contemporary elements for modern-day romantics.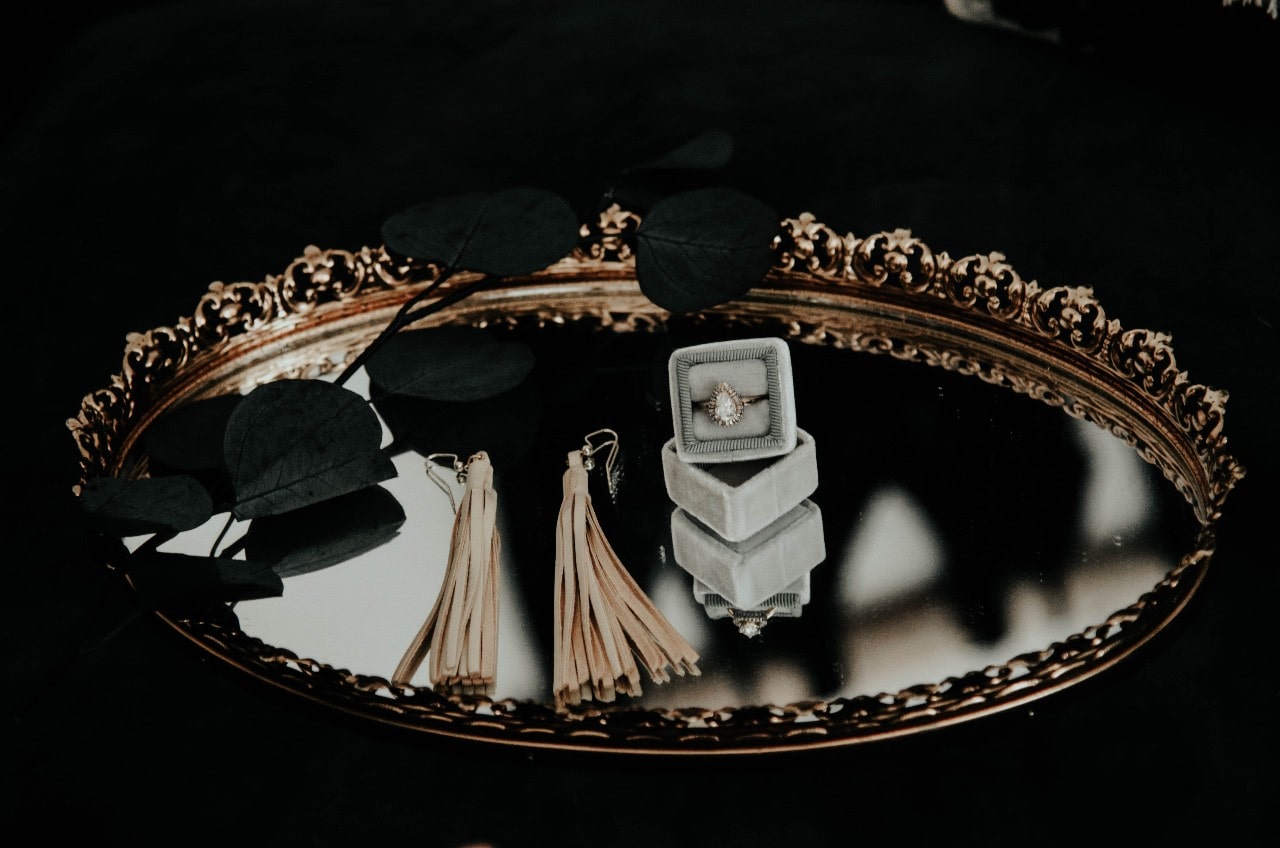 Discover Your Favorite Engagement Rings Styles at Rogers Jewelry Co.
Discover the allure of engagement rings from every decade at Rogers Jewelry Co. With esteemed locations across California—including Modesto, Elk Grove, Folsom, Fresno, Bakersfield, and San Luis Obispo—as well as Reno, Nevada, we're committed to making your engagement ring dreams come true. Beyond our stunning collections, our custom design services work closely with you to ensure a ring uniquely yours. Request an appointment today for a personalized consultation.