Designer Spotlight On Triton: High Tech & High Fashion Rings
April 25th, 2020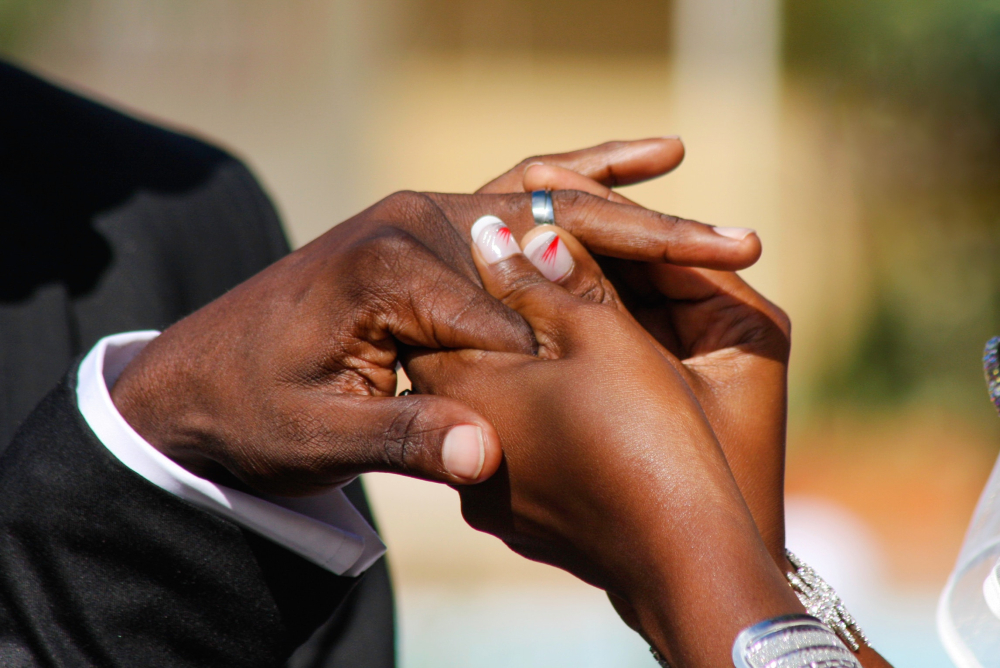 In the era of high fashion and sleek men's jewelry, Triton crafts an extensive offering of jewelry for men ranging from stunning wedding bands to striking bracelets to eye-catching necklaces. Each jewelry piece is imbued with a classic design and a fresh twist such as contemporary and textured metals.
Triton Jewelry Designer
Since 1989, Triton has been at the forefront of crafting distinguishing and resilient wedding bands for men. Triton's jewelry is characterized by a sleek sense of style and creative designs that make great conversation starters. Triton also offers a large selection of contemporary metals such as titanium, stainless steel, sterling silver, tungsten carbide, and mixed metal designs.
Using an exclusive methodology, Triton's metal surfaces gleam with a remarkable luster. Their white tungsten shines as bright as platinum. Their proprietary rose and yellow gold finishes use a metal blend that includes authentic yellow and rose gold particles to make a ring pop. A clear coating of rare earth materials truly makes the rose and yellow gold finish stand out.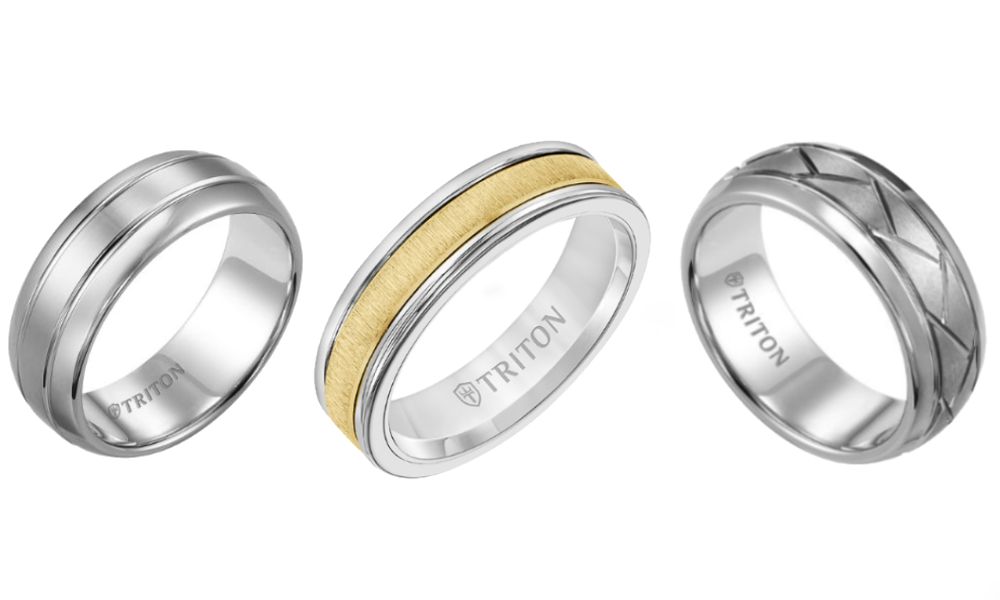 T89
For a classic and no-frills band that doesn't sacrifice luxury, explore Triton's T89 Collection. Tungsten carbide rings are finished with an alluring satin, crystalline, brushed, or sandblasted finish. Choose from a sleek beveled edge, a bold step edge, or a classic round edge on your wedding band. The T89 Collection also features braided leather bracelets with a silver-satin magnetic closure. Some T89 models even come in contemporary colors such as rose gold.
Carved
Triton's Carved Collection features bold and elegant wedding bands for men. Every high-quality metal band in the Carved Collection is intricately shaped and designed to draw the eye. Elaborately laser cut designs adorn the center of some luxurious bands. Others feature striking diagonal and vertical cuts for a bold and geometric look. The polished black ceramic perfectly complements the sparkling tungsten carbide frame. Black satin adorns titanium bands.
Ride
Meant for the man who appreciates a high-octane automobile, Triton's Ride Collection draws inspiration from tire treads, chrome-plated rods, and other motor-related designs. Coined and linked edges provide a unique and exclusive touch. The tungsten carbide frame comes in a variety of styles including gunmetal tire tread centers, steel cable centers, center stripes, ribbed centers, all in an array of finishes. Triton's Ride Collection lets you showcase your automotive passion when donning your wedding band.
Rogue
Triton's Rogue Collection features faceted designs of necklaces, cuffs, and rings for men. Explore pieces in tungsten carbide, black carbon fiber, black tungsten, and white tungsten. Some rings are coated in hand-forged damascus steel, which has a mesmerizing swirl reminiscent of tree rings. Other rings in the collection feature intricate basketweave centers in brilliant and colorful metals. Explore the Rogue Collection to complete your daring look.
Shop Triton At Rogers Jewelry Co.
Rogers Jewelry Co. in California and Nevada is an authorized Triton retailer with decades of experience providing customers with the finest bridal jewelry such as wedding bands and engagement rings. Choose from the finest luxury wedding band designers including A. Jaffe, ArtCarved, Heart On Fire, Scott Kay, Sylvie, and more. We also offer custom design services to help you craft your perfect ring. Start making your dreams come true by calling any of our jewelry store locations or sending us an email.