April Birthstone Gift Guide: Illustrious Diamonds
March 15th, 2023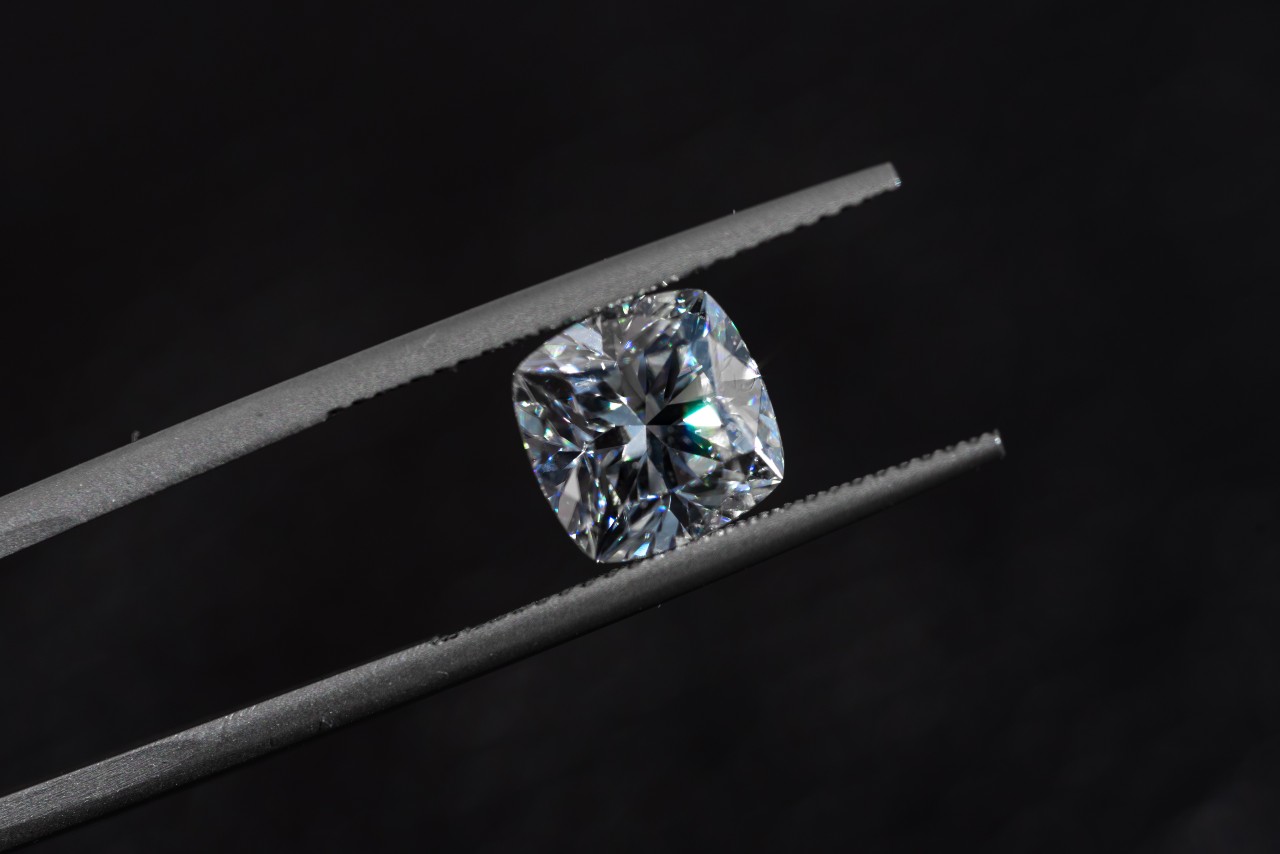 Fine jewelry is always a phenomenal gift option because it not only provides the recipient with a fashionable piece that brings polish and personality to their ensembles, but it also serves as a physical reminder of your affections for them. Birthstone jewelry, however, is particularly heartwarming, showing your loved one that you put extra thought and consideration into getting them a gift that uniquely reflects them. Those born in April are lucky enough to have the glittering and versatile diamond as their birthstone. We have put together a guide to some pieces we feel perfectly celebrate the unique beauty of this gem and that your loved one will cherish for a lifetime.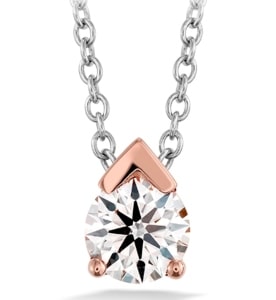 Pendant Necklace
Put a shimmering diamond on full display with a thoughtfully-designed pendant necklace. A piece like this Aerial necklace from Hearts On Fire allows one's birthstone to hang at the center of one's frame, providing a focal point for any ensemble and bringing a bit of sparkle to their countenance. This particular necklace is minimalistic and versatile, ideal for layering or wearing alone, pairing with a casual look or more formal one. Soft rose gold accents set it apart from other necklaces of its kind, ensuring your gift recipient feels unique.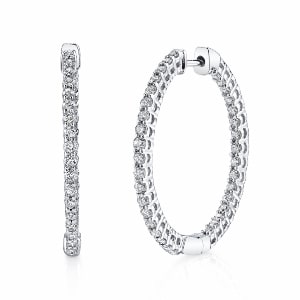 Hoop Earrings
Ensure your gift gets plenty of wear by selecting an accessory that is ever-stylish and easily wearable with most any outfit. For decades, hoop earrings have been a staple in every modern woman's wardrobe. They truly never go out of style. Opt for a pair of hoops that display your loved one's birthstone for a gift that is both fashionable and meaningful. We are particularly fond of these delicate white gold hoops from our own in-house collection. They are positively dripping in sparkle and certain to become a favorite in your gift recipient's jewelry arsenal.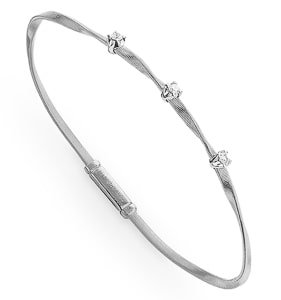 Bangle Bracelet
For something a bit more unique and unexpected, consider a piece like this Marrakech bangle bracelet from Marco Bicego. Bangles have long been beloved for their versatility and stackability and this piece is no exception. It features three prong-set diamonds that sit prominently on the band as well as the signature twists in the metal characteristic of the iconic Marrakech collection. Your loved one will certainly appreciate a piece that is at one minimalistic and creative and they will undoubtedly receive plenty of compliments any time they don the piece.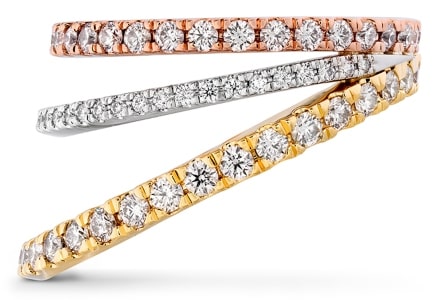 Asymmetrical Fashion Ring
If your loved one likes to stand out from the crowd with an eclectic and expressive wardrobe, we have just the piece for you. This mixed metal diamond ring from Hearts On Fire's Hayley Paige collection is fun and modern, yet still retains its sophistication with high quality metals and dazzling diamonds. Three bands in white, rose, and yellow gold, all dotted with diamonds, are connected at a corner creating an unexpected silhouette your individualistic gift recipient will surely appreciate.
Shop Diamond Jewelry Gifts at Rogers Jewelry Co.
When you shop for jewelry gifts at Rogers Jewelry Co. you can rest assured that the pieces you buy are of the highest quality and your loved one will be able to enjoy them for many years to come. Each of our Nevada and California jewelry stores are stocked with carefully curated inventories of designer pieces that meet our high standards of excellence.
Allow our team of experts to guide you through our inventory to find the perfect gift for those in your life that mean the most to you. Contact us today with any questions you may have about our products and services, or stop by one of our showrooms to speak with a team member in person.