3 Simple Engagement Ring Styles for the Minimalist Bride
December 10th, 2018
Classic elegance will always be in style, and a classic, simple engagement ring will always stand the test of time. You want this timeless and forever investment in your bride and your future together to always be relevant and something she will be proud to wear. Rogers Jewelry Co. is here to introduce you a beautiful style that will be an endless reflection of your love.
These simple engagement rings all feature an iconic round diamond. If you are looking for a classic ring, you can't go wrong with a round diamond because they consistently are the most popular cut. The round brilliant cut is most able to bring out the flashes of light and sparkle in a diamond. While princess-, cushion- and marquise-cut diamonds have times of high demand, the round-cut diamond consistently stands the test of time.
Some other popular features of classic engagement rings include:
Emphasis on classic design and styling
Time-tested diamond shape
Details that add interest but don't overpower
Elements of modern and classic presented in a fresh way
Our elegant rings can accommodate various sizes of center diamonds, and they are available in different colors of gold depending on the style. The same ring can take on a more modern look or a more vintage feel, depending on the gold that is chosen.
Simple Engagement Rings to Light Her Fire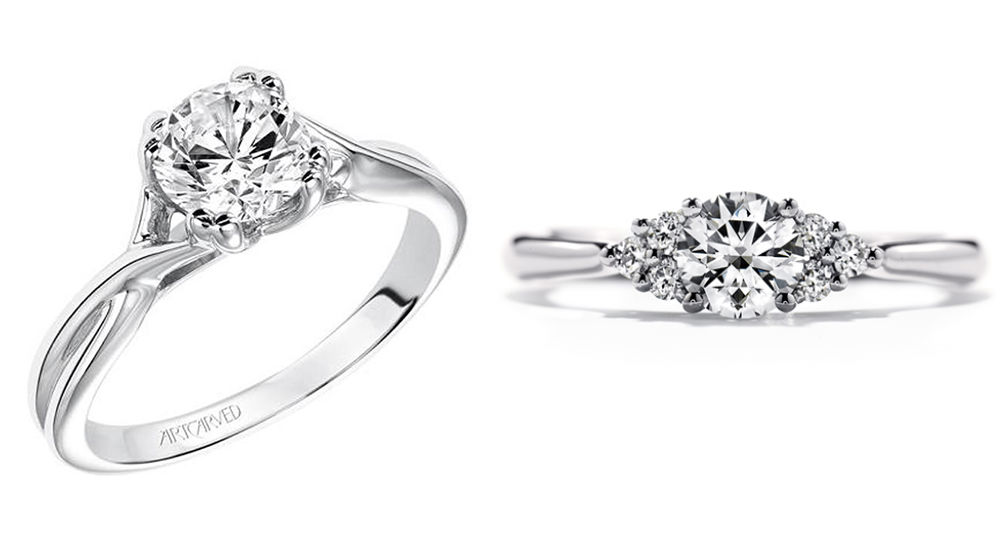 ArtCarved's Contemporary ring puts an unexpected twist on the classic cathedral design to combine modern with timeless. The double prongs and split shank add interest to this amazing ring.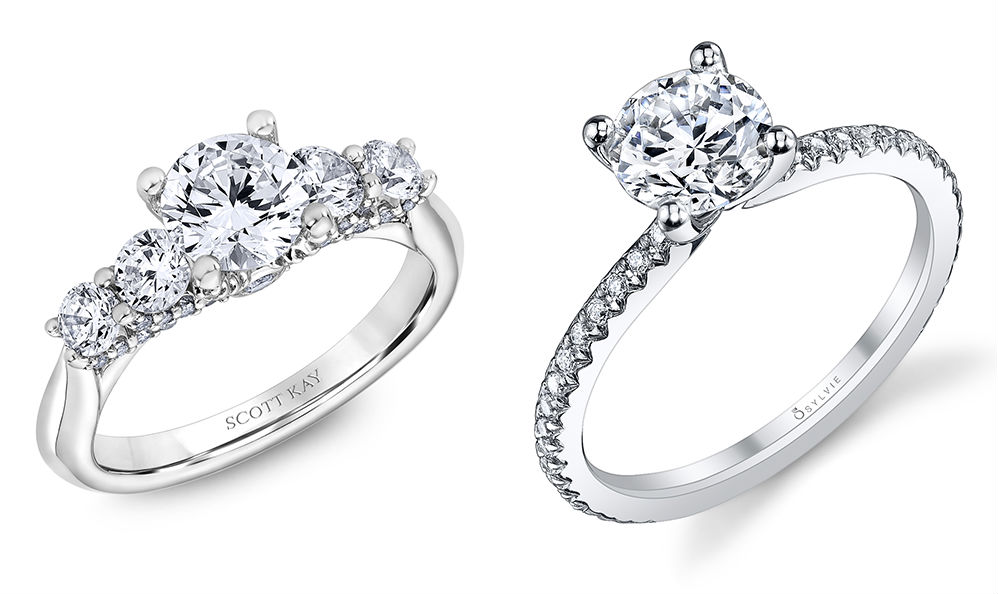 Scott Kay's The Crown engagement ring is reminiscent of the classic three-stone ring but with even more bling. You won't be able to look away from the beauty of your diamond suspended by diamond encrusted prongs. The accent diamond nestled sweetly at the base of the setting finishes off the perfect look of this beautiful ring.
The Sylvie Sidestone engagement ring really turns on the sparkle with an endless band of diamonds that will proclaim your love loud and clear. The delicate strength of this modern cathedral setting is truly classy and classic.
Finding Simple Engagement Ring Styles at Rogers Jewelry Co.
Rogers Jewelry Co. has been in business for more than 80 years. We know classic, and we know what has stood the test of time through these decades of service. We've loved serving brides down through the ages, and we continue to provide a relationship you can trust for one of the biggest investments of your life. We offer a lifetime warranty on our beautiful rings.
We invite you to contact us so you can see our lovely collection and be one step closer to that special day.